Our Biggest Trip Yet.
It was January, and our start point was the Gold Coast. We had the camper packed more full than it had ever been. The water tanks were full, the dogs were strapped in, the car serviced and we were ready to go. The next 20 days took us over 6,000km through some amazing places in Australia. We were not on a specific timeline and we had no plans on were we were going to be staying on any given night.
Our end destination was King Ash Bay, near Borroloola in the Northern Territory where we were heading back to work for the dry season. Even though the Northern Territory is North West of the Gold Coast, we wanted to make a real trip out of it, so of course we headed South.
With no real ideas about where we might like to spend our first night, we just drove. We passed the turn offs for Byron Bay, Ballina and Lismore. The countryside through that area was beautiful. Lots of rolling green hills, that in a lot of cases meet the sea. We stopped for lunch in at a quiet park that was beside the beach in Coffs Harbour.
Being Naive Nomads and all, we were on a tight budget so there was very little eating takeaway. We would usually have something prepared the night before for lunch the next day. This was a late lunch, maybe 2pm. So we were starting to think about where to stay the night. We got out our Free Camps Australia book. Our criteria was simple. Somewhere dog friendly, and somewhere we can sit in a creek and have a beer. That's pretty much it. We searched for places within about 100km from where we were at the time and narrowed our choices down to about 2 or 3. From there, we would jump online and Google our shortlisted camp areas. We wanted to find out what other people thought of the camp areas, and we wanted to see photos.
This ended up being our formula every day. At any time in a day of driving we started to feel like we'd had enough driving, we would grab the Free Camps book out and look for a few places within an hour away from where we were.
On this day, the first day, we had chosen Roses Park Free Camp, which is in a tiny, tiny town called Thora. The camp grounds are maintained by volunteers. The local rotary club or something like that. The lawns were green and mowed. There were lovely big, green, shady trees. There is a small toilet block with 2 toilets. They ask for a small donation to stay there, which is more than reasonable.

It was a short walk to the general store, where we could buy a few beers. We walked down the bank from where we were setup and sat in the river. We cooled off while having a beer and throwing a stick for the dogs. Harry in particular absolutely loves swimming.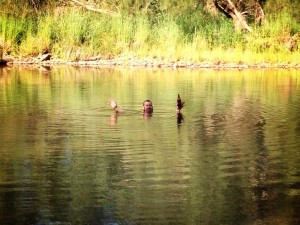 This was a great start to the trip. We had only travelled 380km, but ended up staying at Roses Park for 2 nights.
Our next big day of travel only took us 200km! We really did take our time of it though with so much to see and do on the way. We had wondered why people at Roses Camp would come and disconnect their caravan, then leave for the day, then come back later. As soon as you leave Thora, you start climbing mountains. Long, windy roads all the way up to Dorrigo. Along the way we turned off several times when we saw signs for LOOKOUTS and WATERFALLS.
Some of them being in National Parks, we were only able to have a quick stop and leave the dogs in the car for a few minutes while we had a quick look.
By early afternoon, we were ready to pull up stumps. So back to the Free Camps Australia Book, we found Uralla Fossicking Area. When we got there it was just insanely hot. There were quite a few cars there, and lots of people swimming in the creek. It didn't look very appealing to us at first, but as the day got older, the locals and "day trippers" left. This left just us and one other camp.
The other camp ended up being a young bloke travelling by himself that was actually at this fossicking area for fossicking! He had found little bits of gold and some precious stones, but not enough to retire any time soon. As he said, if you work out the hourly-rate it's very low paying. He does it for the thrill, not the financial reward.
On the second afternoon, he came over to us so excited. He had found a piece of gold the size of a match head. It was so small, but this was apparently a really good find. The other "good find" that day was the WIKICAMPS IPHONE & IPAD APP. While having a beer with this bloke, he told us about it. We downloaded it and have never looked back since. The WikiCamps Australia App is just brilliant for people like us that have no idea where we want to stay any given night. It has ratings and reviews by people that have actually stayed at the camps. And there are thousands and thousands of camp sites listed.
Uralla Fossicking Area itself is not ideal for camping. It had a couple of stinky, dirty long drop toilets. And there is not a lot of flat ground right near the creek. But it's FREE, so I wasn't complaining too much.
The creek was beautiful. Only shallow, but quite appealing looking with a big sandy beach area. It is a dog friendly camp, so yet again, the dogs loved to have a swim with us while we had beers in the creek.
Something else of interest is the glitter in the water. You would swear that someone had come along and dumped a truckload of gold glitter into the sand. Being a fossicking area, we assumed that either this was either actually gold, or someone playing a joke. But it turns out that it's something called Mica. Apparently amateurs and first timers pick out the tiny specs of Mica thinking it's gold.
After leaving Uralla Fossicking area, we stopped in Uralla for some fuel and a bacon and egg sanga. I cant remember which roadhouse it was, but it was the best bacon and egg sanga I have ever had!
This day of driving took us through Tamworth. We saw the big guitar thingy, and that's about it. Exiting Tamworth, there were some beautiful farm properties that had some big, prestigious looking houses.
We don't alway take a direct route to places. While driving, if we see a sign that looks appealing, we sometimes will just turn there. Dunedoo is a perfect example of this. We were driving towards Dubbo when we saw a sign for Dunedoo. Jazz and I just looked at each other and said "I've heard of Dunedoo, do you want to go there?"
Because we were not on any strict timeline, we were able to do spontaneous things like this. Like on day 1, when we pulled out of the driveway we thought we would go out west of Tenterfield, but ended up near Coffs Harbour instead. It's a wonderful way of travelling. Anyway, Dunedoo. On the road to Dunedoo we found Mendooran Rest Area. It's a huge free camp area that has a great amenities block including free toilets and showers. There was a creek there too, but didn't look appealing for swimming.
Mendooran rest area has big trees for shade, and if you don't want to be camped next to someone else, there is heaps of room to spread out. We did spread out, because it gave us a chance to let the dogs off the lead and not interfere with anyone else's space.
I didn't mention earlier that there was a massive heat wave going on. This was a problem for our generator. We had a cheap Ryobi RIG1000 generator that we used to keep our batteries charged. It overheated and blew up. This was the first negative for the trip. It was pretty upsetting, because this could have meant the end of the trip as we knew it. If we couldn't charge our battery, we couldn't run the fridge, lights etc.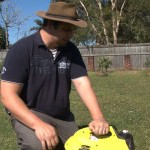 We had tentatively planned to stay in Mendooran Rest Area for a few days before our Gennie blew up. This wasn't possible now.
The next morning we had expected to be spending every night in caravan parks for the rest of the trip because of our generator problems.
It was only a short drive to Dunedoo, where we stopped at a park for Jazz to make breakfast. I ducked into the Cafe across the road for coffee. It was a really nice cafe called Kakadoo Cafe from memory. We did a fair amount of driving that day. We took the "scenic route" to Gulgong, Wellington, Molong and then to Orange.
While picking up a few things in Orange, I got a phone call from my old man. He completely saved the trip by offering to help us buy a new generator. We found a Honda dealer and bought a gennie. It's smaller, lighter and quieter than the Ryobi. But more than twice the price. However we have heard the story so many times now from so many people that you are simply wasting your money if you don't buy a good gennie like a Honda. If you start off with a cheap and nasty one like we did, you are just prolonging the inevitable.
With our new gennie packed in the camper, we headed off to our camp for the night, Carcoar Dam. It's quite a spectacular place, with beautiful rolling grassy hills, the dam itself, and then there are the enormous wind turbines on the hill across the water.
The first night we were there, it was beautiful, sunny and warm. Not even windy. The next day though, YIKES! This is definitely a good spot for a wind farm. This was the first time ever that I had thought wind might actually do damage to the canvas on the camper. We didn't get much sleep that second night.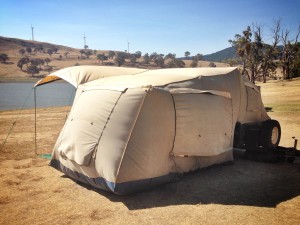 The campsite was good. All the flattest spots were already taken, but there was plenty of space. There were free toilets and showers. A boat ramp too, and a couple of ski boats provided entertainment for us.
Leaving Carcoar Dam, we went to the nearby town of Blaney where we found a laundromat and a bakery. While we waited for our clothes to wash and dry, we treated ourselves to coffee and a beautiful Bolognese Pie from the bakery. It was serious business too, because it was a couple of days before Australia Day, so we needed to work out where we wanted to be camped. We had friends coming from Sydney to come camp with us, so we needed to pick somewhere within maybe 5 hours of them, and a few hours from where we were.
We hadn't made up our minds yet when I realised that we were only half an hour from Bathurst. We were amazed at how awesome the Bathurst 1000 Racetrack was on Mount Panorama. And the fact that it is just a public road that you are allowed to drive on! This was probably my favourite part of the trip so far, and it took Jazz hours to calm me down afterwards.
We headed South to Goulburn. We went via a way that took us through many state forests, national parks, up mountain ranges and down mountain ranges. We went for sections where we didn't see another car for 20 minutes at a time.
From Yass we spoke to our friends in Sydney and told them we had used our WikiCamps App to find a place called Wee Jasper near Yass. We decided that was going to be the spot we were going to meet and stay for the Australia Day Weekend. The drive from Yass into Wee Jasper was probably my favourite bit of driving I have ever done. There are several bridges crossing over creeks and rivers as well as vast, open views of countryside. It's all very hilly. Some of the roads wind around the side of hills with almost sheer drop offs on one side.
Wee Jasper is a peculiar place, and seems like a bit of a ghost town. I can imagine that it would have been a thriving sheep farming area. There are apparently several camp areas. The one we stayed at was very nice. There were only a few people setup there when we got there. By midday Saturday it was packed. Families and kids everywhere. It was good for a bit of atmosphere.
The river flowed slowly in the deep section, then got shallower and faster. We had a couple of blow up toy boats that we paddled down the river through the small rapids. It was great fun. The few days we had at Wee Jasper consisted of drinking beer, eating food, swimming in the river and listening to Triple J's Hottest 100. It remains as some of the best fun we had on the trip.
Seriously, a beach. It's on the banks of the Murrumbidgee River. Being afternoon, there were lots of people enjoying the river by having a swim or floating down on all kinds of toys. On the close side of the river the water was running slowly, but the far side was faster. We enjoyed beers and swimming with the dogs in the river.
It was our first caravan park of the trip, so we were able to plug into power, take a long shower, do some washing and other admin. It's a great caravan park with large, clean amenities.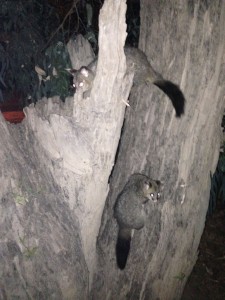 The possums were very friendly. As soon as the sun went down, the possums came out. They are obviously used to humans, because they were not afraid if you walked right up to them. Our dogs were not too keen on them though, so we had a bit of a restless night.
DAY 13 and 14 – Balranald Caravan Park
After leaving Wagga Wagga, we spent the day following the Murrumbidgee River through Narrandera, then on to Hay. We found a big free camp in Hay, but it didn't have a big appeal to us for some reason. It was all a bit open and exposed. So we kept driving along the Murrumbidgee until we got to Balranald.
The Balranald Caravan Park was like an oasis with the greenest grass I think I have ever seen. We stayed two nights. I can't remember why, because there wasn't much to do there. Plus it was really hot and the Murrumbidgee River there doesn't look very nice for swimming.
Even though it was down stream, the river there was just a fraction of the size it was way back at Wagga Wagga. This is from intense over-irrigation. There is an enormous amount of water pumped out of both the Murrumbidgee and the Murray Rivers for farming and orchards etc. I understand that the farmers need to grow their crops, but they are literally destroying the rivers. I don't think there is a simple solution.
The family that run the caravan park were lovely. They keep the place looking perfect and clean.
This stop was simply as a trip down memory lane for Jazz. She used to go waterskiing at Punyelroo on the Murray River as a kid with her family on weekends and holidays.
It was a big day of driving. Because we travel with dogs, we stop regularly. Probably every hour. We got our first glimpse of the Murray River at Mildura. It's a beautiful, big river. The drive between Mildura and the South Australian border was pretty boring and uneventful. But when we crossed the border, there was a big quarantine roadblock set up for fruit flies. Every car gets stopped. The bloke that stopped us wanted to look through our fridge for fresh fruit and veg. I opened it and he saw that I had Coopers beer in there. We chatted for about 2 minutes about beer, then we were on our way again.
We met back up at the Murray River somewhere near Renmark in South Australia. Between there and Swan Reach (which was right near our destination, Punyelroo) you can really see how the Murray River is the lifeblood of the whole region. If the river wasn't there, then none of these towns would exist. This whole area is known as The Riverlands. It's the kind of place I'd love to own a property one day.
DAY 16 – Shoreline Top Tourist Park, Port Augusta
Leaving Punyelroo, we headed towards Adelaide. We drove through some country that could only be described as "very English." Not just because of the rolling green hills, but also the kilometres and kilometres of stone wall fences that zig-zagged across the countryside. Some of them even went straight over steep hills. How they must have been built is just mind-boggleing. The other thing that made me think that this area was very English was the old stone building ruins everywhere. Old barns and tiny houses built out of stone that are now in some form of decay.
We had been told that we must try a South Australian meat pie too. In a small town an hour or so out of Adelaide we stopped at a bakery / cafe and had one of the nicest coffees and best pies we had ever had. I wish I remembered the name of the town and the bakery, but since then I've been told that you can get amazing pies almost anywhere in South Australia.
I have heard Jazz tell me about a playground at a place called St Kilda about 100 times over the years. She has fond memories of this playground as a kid and she insisted that we take a massive detour to go to this playground. I'm glad we did. It was just awesome, and Jazz reckons it's hardly changed since she was there as a kid. It was the biggest playground I'd ever seen.
After we left St Kilda we decided we wanted to get to Port Augusta. Jazz inspected the map and then asked me if we wanted to take the main highway, or follow the waters of Spencer Gulf. We decided to take the Spencer Gulf route. Although it took a lot longer, it was still a nice drive. We drove on some very narrow roads through lovely farm land, through wind farms, and some lovely little towns. We had a pitstop in a small town that had a long pier that we walked down with the dogs. It was quite enjoyable.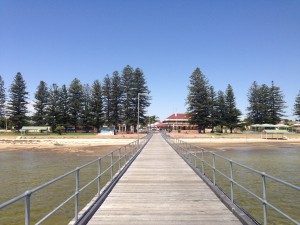 After that we followed a massive pipeline on the side of the road pretty much all the way to Port Augusta. Driving into Port Augusta, we were not impressed. Maybe we were really tired after a big day driving, but nothing about Port Augusta appealed to us. I remember talking about it with Jazz at the time and we decided that this was the first place on our travels that we could not see ourselves ever living there. The caravan park we found had a big barbed wire fence around it. Shoreline Top Tourist Park it was called. There was nothing wrong with the place. We just didn't like the vibe.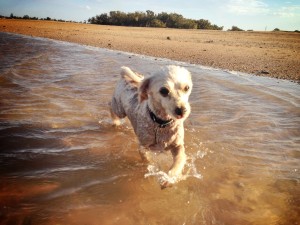 On the plus side it was located right on some water with a big beach area that we let the dogs run around on. Also the phone reception was really good, so I was able to stream the One Day International cricket match that was on. It was a great end to the day with a yummy camping dinner cooked by Jazz, cricket and beer.
DAY 17 – Coober Pedy
The next morning we left Port Augusta and headed North. This section of the trip is where we were heading into the true centre of Australia. Through the dessert, past some of the great salt lakes of Lake Macfarlane and Lake Gairdner. There was not any real towns to speak of on the main highway. Just the occasional roadhouse, which is handy because we only have a 60L fuel tank on our Suzuki Grand Vitara "Ellen."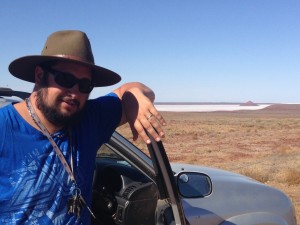 We arrived at Coober Pedy in the afternoon. It was pretty hot, as you would expect. Our first stop was the bottle shop. They have a few different restrictions on alcohol, and they scan your ID to make sure you haven't bought more than you are allowed to that day. It wasn't an issue with the quantity we wanted to buy. There was only one dog friendly caravan park in town, so we stayed there. Their website said they had a pool, but the bloody thing had no water in it! We were so upset.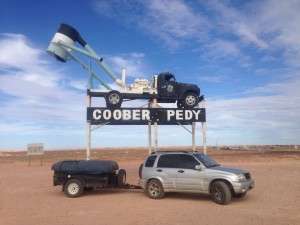 The area where we camped did have shade sails above for a bit of shade, which was a bonus.
The best part about this caravan park was that it had a pizza shop inside the park. And bloody good pizza too!
We didn't have the true Coober Pedy experience though. We didn't go anywhere underground or to any other tourist attractions because we had the dogs with us. Traveling with the dogs does limit some of the things we can do, but if we had to choose, we would choose the dogs every time. Because there was literally NOTHING for us to do in Coober Pedy, we only stayed one night and headed off the next morning.
DAY 18 – Ayres Rock / Uluru Northern Territory
We knew full well that the rock is in a National Park, but we drove out there anyway. It just meant that we could view the rock and The Olgas from a distance.
It is disgustingly expensive. Everything. Camping fees, fuel, booze, everything. It's a huge caravan park that I assume is full in the middle of winter when all the grey nomads are out in force. The amenities blocks are enormous too.
It is almost criminal the way things are run at Uluru. The entry fee to the national park is expensive, when it should be bloody FREE! They have park rangers there that are nothing more than "checkout-chicks." Collecting money at the entry booths. It would be like charging an entry fee to climb Mount Warning, or to swim at Bondi Beach. It's just wrong.
They have pretty much monetized a rock.
If we could have our time over again, we would not have turned off the Stuart Highway and kept heading North.
DAY 19 – Banka Banka, near Tennant Creek Northern Territory
While at the Uluru Caravan Park at Yulara, we found out that there was a lot of rain expected in the Gulf region of the Northern Territory, which was our final destination. We were not on any specific timeline to be due at our final destination any time soon, but with the news of a lot of rain coming changed things. The rain was expected to hit in 2 days time. A lot of rain means flooded and washed out roads. And the dirt roads become almost impassable.
So we had a decision to make. Either take our time and risk possibly not being able to get to King Ash Bay on the Gulf or Carpentaria for several weeks, or leave right now and get there before the rain hits.
We chose to get there before the rain hit.
We drove through Alice Springs, and through Tennant Creek. We didn't know where we were staying the night and we didn't know what time we would stop driving, so we grabbed some take away Chinese in Tennant Creek.
Exiting out of Tennant Creek, while we still had one bar of reception, Jazz found a place called Banka Banka on the WikiCamps App. Banka Banka is an old Station with some rich history. It has been setup as a nice campsite now with amenities and a great bush kitchen.  The sun was setting when we arrived. Not a single other camper was there. There was a lovely old lady that greeted us and showed us where to setup. Although we were the only ones there, we could imagine in the middle of the Winter Grey Nomad season, it would be a very popular spot.
If we were traveling through that way again, we would definitely stay there again.
Other than a few sprinkles here and there, we beat the rain! We arrived at King Ash Bay ready for Happy Hour.
We spent the 2013 season (March until November) working at King Ash Bay Fishing Club running the kitchen. Arriving back at King Ash Bay marked the start of our 2014 season working in the Northern Territory.
We can't wait for our next adventure, touring around another part Australia.
http://www.naivenomads.com.au/wordpress/our-biggest-trip-yet/
http://www.naivenomads.com.au/wordpress/wp-content/uploads/2014/01/20140129-163200-900x675.jpg
http://www.naivenomads.com.au/wordpress/wp-content/uploads/2014/01/20140129-163200-140x140.jpg
Trip Blogs and Stories
It was January, and our start point was the Gold Coast. We had the camper packed more full than it had ever been. The water tanks were full, the dogs were strapped in, the car serviced and we were ready to go. The next 20 days took us over...
Mikey
Michael
Cunningham
michael@back9media.com.au
Administrator
Naive Nomads