Wooyung Beach Holiday Park, near Pottsville NSW
This is not the sort of place we would usually stay at. We like to have our own space And we like to have the dogs running around off their leads at times around our campsite.
The reason why we came here is because we wanted to camp somewhere by the beach. This is the first time we have done any camping next to a beach. In that respect it's a very nice place in a superb location, just a short stroll across the road to the beach. But that's pretty much where the niceties stop…
The campsites are very small. As I sit here, I could almost touch our neighbours Tent pole ropes on either side. Their website mentions a creek running through the campsite. Perhaps this is the wrong time of year, but it is more like a swamp at the moment.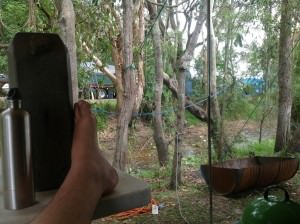 The facilities here are adequate but far from ideal. We are in a powered site and we had to run our power cord across two other campsites to reach the outlet. Our neighbours on the other side have had to run their power chord through our campsite and 2 others to get to the power outlet.
There is only one amenities block and it is a bit old, but most importantly IT IS CLEAN. It is an inconvenient walk from some parts of the park to the amenities block.
Attractions
People obviously come here because its next to the beach. I don't know if we are meant to, but we let our dogs off the lead and run around on the beach. The beachfront is extremely long. You can walk for kilometres uninterrupted in either direction on the sand. So you can always find your own private stretch of beach where you know the dogs won't interfere with anyone else's space.
We have seen most people are also travelling with fishing rods. There have been several people fishing off the beach but we are yet to see anyone catch a fish.
Quick facts about Wooyung Beach Holiday Park
– The showers run on a 20c coin for 4 minutes.
– The water available on site is bore water, so bring your own drinking water.
– It has cost us $29 per night for a powered site. Not expensive, but you wouldn't want to pay any more than that for this place.
– Firewood is available for purchase.
– It is VERY dog friendly. While walking around we would guess that there are at least 30 dogs here right now. Almost every camping group has a dog.
– No generators allowed. (That's why we have a powered site)
In summary, the beach is nice, the facilities are ok, the dogs can come along, but we will never come back here. It's simply not our cup of tea.