OUR RIG
OUR NEW RIG
The Car
We've had our Ford Ranger for over a year now and we absolutely love it.
When I was younger, the brand of a car meant everything to me. Particularly in the Ford vs Holden battle. I would have rather be dead than be seen in a Ford. But as you get older, you realise that brands mean nothing. Anyone looking for a car in this class would be happy with whatever they buy, weather it's a Hilux, Triton, Amarok, Ranger or whatever. They are all good cars. But here's what I love about the Ranger compared to the others:
It's a 3.2 litre engine, so it's larger than most of the engines in the class.
It's also a 5 cylinder, which provides some extra grunt. Particularly for those people like us that are towing. The idea of towing a caravan around Australia with a 4 cylinder engine doesn't sit right with me. If I could afford a V8 Landcruiser I would buy one, but I reckon the next best thing is my 5 cyclinder, turbo diesel Ford Ranger.
The Tyres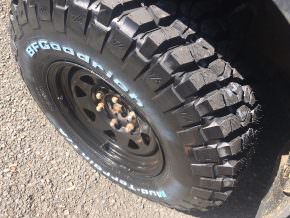 I had my father AND Jazz's father BOTH trying to steer me away from getting the mud tyres. But my mind was made up. Their big concern is that "mud tyres are noisy" and "most of your driving is done on bitumen."
After speaking to a couple of mates that have BF Goodrich MK2's on their car, they said I wouldn't be disappointed. They even said they aren't noisy on bitumen. I was a bit skeptical, but they WERE RIGHT! There is honestly no difference in noise compared to the previous road tyres we had.
The tyres have already paid for themselves. I've already pulled out several other cars that have been bogged. Also after Cyclone Alfred (Feb 2017) in the NT, we were able to drive through muddy, dirt roads to get to town.
I made sure to get the exact same size tyres that are on my camper trailer. Although the tyres are on the camper are not mud tyres, they do have the same stud pattern. So now I carry 3 spares that are all interchangeable (two on the camper and one on the car).
The Camper
The newest addition. It's a Broadwater Camper. It's Chinese made, but assembled and finished in Australia on the Gold Coast by the team at Broadwater Campers.
It's their "Moreton" model. A forward-folding camper, which is something we hadn't heard of before but we really liked the idea of.
The camper has a hard-top on it, which folds forward (towards the A-frame). As you fold it over, you are actually folding the mattress over to where it sits at the front. The tent all pops up, and you lower down the little staircase. You pop inside and extend the poles to the correct height, and that's it. Setup complete.
Some of the features that came STANDARD with this Camper Trailer were quite impressive:
Sony stereo speaker and Sony head unit.
LED lighting throughout (Seperate lighting for bedroom, lounge area and doorway).
Fridge slide with light.
TWO 100 amp hour deep cycle batteries (YES! Included standard!)
Portable gas hot water system.
Slide out kitchen that includes sink, gas stove and storage drawers.
TWO water tanks. I'm pretty sure they total 200 litres, but they aren't the same size.
That's just some of the features. I'm looking forward to making an in-depth video showing you around the camper.
Other Gear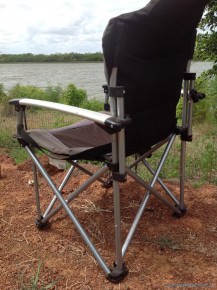 As you would expect, we travel with a lot of gear. We have made mistakes along the way and have had to replace crappy equipment that has failed. We also have plenty of "hand me down" stuff we have acquired from our parents. Some of the major gear we travel with:
Two Engel 40L fridges.
A Honda 1KVA Generator. On our first ever big trip (1 month) we started with a Ryobi Generator. We had owned it for a while, but had never used it heavily. After about 5 days on our trip we started using the Ryobi Generator heavily and it completely shit itself. We were able to dip into some emergency money (Mum & Dad) to get a Honda Gennie. That was 5 years ago now. The Honda Generators are just awesome.
Both of our camping chairs are rated to 150kg. I'm a big dude, and nothing worse than a broken camp chair.
---
OUR PREVIOUS SETUP
When we first started traveling and Camping around Australia, we had a very basic setup. That's party how the name "Naive Nomads" came about.
The Car
A Suzuki Grand Vitara. Great little vehicle that we still actually own. On first appearance, people assume it's in the same class as a RAV4 or some rubbish like that. But it's not. It's a very capable little four-wheel-drive, with low range. The 2.5 litre petrol engine is actually a small V6 as well, which surprises a lot of people too. Quite a bit of grunt for such a small car.
Just a couple of negatives. The first one is storage space. For around town driving and day-to-day living it's a perfect car. But unfortunately for traveling and camping on the road for long periods of time is different. It is a small car compared to a Nissan Patrol or a Toyota Landcruiser.
The only other negative is cruise control. Or the lack thereof. In our new rig we have cruise, and now I have no idea how we ever lived without it in the Suzuki.
The Camper
I'm pretty sure we were hung-over when we bought it. It was one of those crazy ideas, where we had never even been camping together. We found it online (second hand, but we were the 3rd owners), drove down the road and bought it right there and then.
It was a simple, soft floor camper. A piece of foam for the mattress, no slide out kitchen, even the gas struts were buggered on it, very basic. But it was the best thing we ever did. We used that camper trailer regularly for 5 years and had some great times with it.