About Us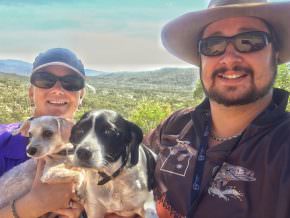 G'day, I'm Mikey. Together with my wife Jazz & our pooches Harry & Barney we have decided to hit the road and explore this great country of ours. We don't have a big impressive caravan, we don't have a land cruiser and we don't have a roof top tinny. But none of that matters, because we have each other, and we are making the most of it. Our travels have taken us to some amazing places so far, with many more to come.
We have been married since 2009 but we have known each other for years before that. Both born in Australia, and proud of it we have always loved the idea of traveling the country we love so much. We both come from families that did the big road trips as kids and love being outside. We don't know where our next stop is, and we don't know how long we are going to be travelling for. What we do know is we are having great fun exploring Australia and seeing some amazing places and meeting all kinds of people.
I started this website back in 2012 when we went on our first big road trip. I've been working on it and building it ever since.
We started off with a cheap, second-hand camper trailer that we bought for $2,000. Coupled with a small Suzuki Grand Vitara, we headed North to the Northern Territory from the Gold Coast in Queensland. Some people said we were crazy, some said we were mad.
Looking back on it, we were a little bit of both.
Mikey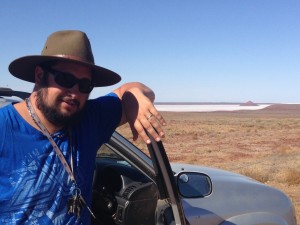 I started making websites, videos and other stuff like that back when I was in high school. I studied multimedia at TAFE and then at Monash University in Melbourne before going out and entering the workforce at a small TV station in Sanctuary Cove on the Gold Coast. It was called Resort TV and we broadcast two TV channels via a cable to all the houses in Sanctuary Cove. There were 7 staff, and I started right at the bottom. Fast forward about 5 years of a lot of hard work and I ended up buying that business.
We made two TV shows. One on Free-to-Air TV on the Gold Coast (over 130 episodes) and we had a cooking and lifestyle TV show that was broadcast nationaly on Foxtel. We developed a TV Guide/Local Newsletter style weekly booklet that was delivered to every house in Sanctuary Cove, Oxenford and Coomera. We also had one large client that we did all kinds of advertising and marketing work for. With this client, we flew all over Australia filming videos and TV Commercials.
Things were going GREAT!
Then, the Global Financial Crisis hit. 
Every week we would check our PO Box and there would be ANOTHER A4 envelope in there. "Who's gone belly up this week?" It would be letters from liquidators, receivers, or administrators letting us know that a company that owed us money had gone broke and if want 10 cents in the dollar of what they owe us, we can go to a meeting next week to beg for money.
That's when we decided a change was in order.
It's been about 5 years since we left our old life behind, and it's the best thing we ever did.
I love small country towns, the smell of farms and driving through the country. I love having a beer in front of a campfire while the sun is setting. Australia is the best country in the world by a long shot and I want to experience as much of it as possible.
Jazz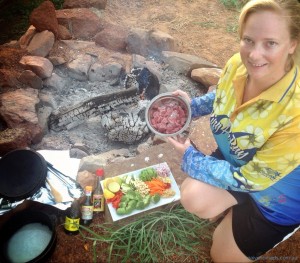 Jazz is usually the voice of reason in the family. I have a habit of breaking things, and jazz spends most of her time attempting to prevent me from doing stupid things. Jazz does most of the cooking while we are traveling and enjoys creating dishes that would usually not be associated with camping food.
Harry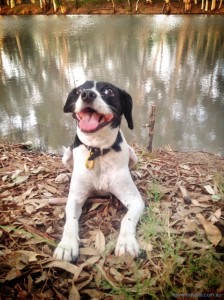 Cavalier x Fox Terrier. His spot in the car is the back seat. He loves being in the car and looks out the window all day while we are driving. His favorite thing in the world is swimming.
Barney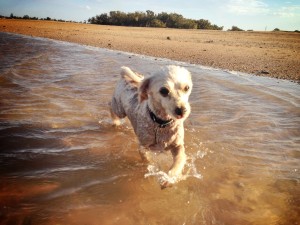 Maltise x Toy Poodle. The smallest in the family, but he thinks he's in charge. He is also meant to be in the back seat, but usually ends up making his way onto Jazz's lap. He sleeps all day in the car. So far in our travels he has slept for over 20,000km of the trip.
If you would like to get in contact with us for any reason, head over to our contact us page and connect with us in various ways.